Recalling back in February this year, the global RippleNet network has on-boarded three more remittance partners in the South Korea region namely Hanpass, Sentbe, and WireBarley with the aim to solve a major problem in the region's remittance market. Due to the government's offer in acquiring remittance licenses to non-bank companies in 2017, a rapid transformation has occurred. In 2018, Coinone Transfer, a payments company has successfully partnered with SBI Ripple Asia to roll our cross-border payment solutions and is the very first blockchain-based remittance product in the region. Because of this move, it brought a large number of new customers where Ripple decided to set more improvements in the cross-border payment industry and targets to reach throughout the Asia-Pacific region.


RIPPLE ANNOUNCES NEW PARTNERSHIP

          RippleNet is paving the way with Moneymatch to improve international payments in Malaysia by a collaboration announced on April 15, 2020. To greatly enhance the services of the company, Ripple offered cheap, fast and seamless remittance services which made Moneymatch prefer Ripple over SWIFT as its technology outmatches the traditional financial institutions and could deliver a better solution in transfer and payments in over hundred countries. Aside from the solutions Ripple offered, Moneymatch CEO Adrian Yap stated that the network helps push the company's credibility to limelight in the majority especially with financial institutions.
Source: ripple.com/insights/moneymatch-works-with-ripple-to-provide-cost-effective-global-payments-for-smes-in-malaysia/
          Moving backward in March 2020, a fintech company based in Thailand (DeeMoney) and UAE's National Bank of Fujairah (NBF) also joined Ripplenet to speed up transactions, track international payments real-time and with the same goal of bringing seamless and cheap fees.



          Former CEO Chris Larsen and the Ripple team (Ripple for Good) are going to donate a total of five million dollars to San Francisco-based food banks, where usernames can also be searched in Twitter namely @SFMFoodBank, @2ndharvest, @Samaritan_house, @LoavesFishesSJ and @ACCFB in Bay area that will receive $1m each to help mitigate the impact of the pandemic virus.
          The said area is struggling with a shortage of food due to the coronavirus outbreak that resulted in a hunger crisis where businesses shut their doors. On the brighter side, more tech leaders are joining the fight as Google, Stellar Development Foundation, Binance, and Twitter CEO Jack Dorsey are joining forces by donating not just millions but billions of funds.


Is XRP on the rise?

          With the network's latest performance and in being responsive to the call of the global crisis, it may somehow show a good impact in market price movement as XRP has broken higher resistance in the last 5 days based on the XRP/USD pair. However, centralization issues keeps Ripple away to be included in Morgan Creek Capital's crypto index fund.

Photo source: tradingview.com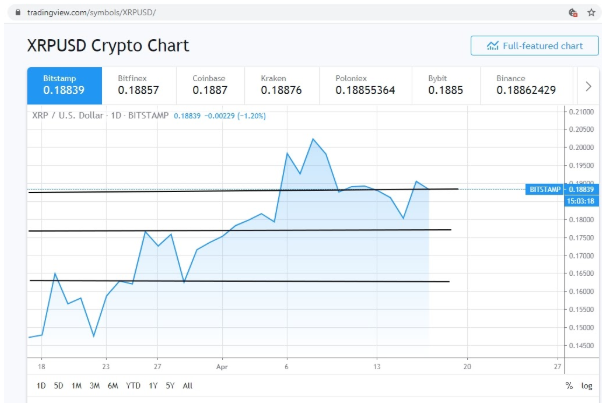 Winterwind has been working on blockchain projects non-stop since 2017, integrating blockchain technology such as Etheruem, EOS, Bitcoin and more.