The Chinese Public Blockchain Index ranks Bitcoin as 14th in place while EOS stays on top. In every two months period, an evaluation on blockchain technologies is being performed to determine the quality of each chain according to these three aspects; basic technology, application and innovation. This implementation (since 2018) is organized by CCID Blockchain Research Institute and facilitated by many other technology firms in the country for cyber space security and blockchain ecological union.
          The evaluation took place on April 10, 2020 and ranked 37 well-known public chains in Blockchain space. This includes EOS, TRON and ETHEREUM as the top three and are considered the biggest dapp platforms in the world followed by 11 more chains placing Bitcoin in rank 14th. The 17th assessment official result was released on April 13, 2020.
What keeps EOS on top?

          According to the evaluation result, EOS ranks as the best performing blockchain project generating an assessment score of 21.4 points on applicability which slipped down a bit against Ethereum, and 29.1 points on creativity where Bitcoin has the highest points of 42.4. But EOS dominated TRON and other 35 chains gathering 105.6 points in basic technology criteria with an overall total index points of 156.1.


Assessment Snapshot
Photo source: ccidnet.com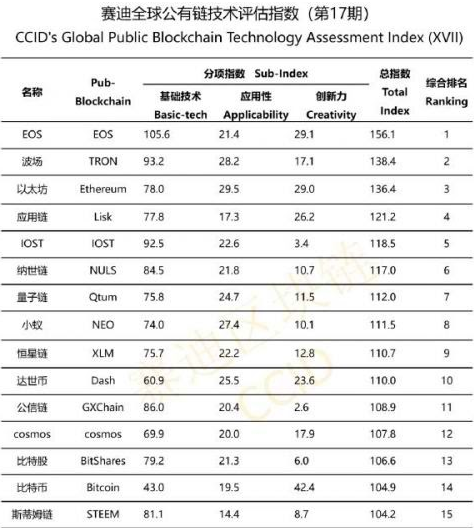 What is the basis of these criteria?

          According to CCID website, these three main aspects of assessment evaluates the importance of the following;
Basic technology should be realistic in terms of delivering the core values and purpose of a public chain.
Applicability of the product developed that plays as actual support to the public chain i.e implementing thorough development and applications.

Creativity of innovation that can prove a public chain can be useful or compatible in any area of technology.

EOS steadily sits on top since the last evaluation last February 21st this year followed by TRON and Ethereum as well.

But due to the recent Covid-19 pandemic which started early February, has resulted in an impact for these projects to slow down. For instance, comparing with the 16th assessment result, BitShares was spotted at 11th place and now reaching rank 13, Bitcoin on 11th place slipped to rank 14th. Moreover, some of these 37 comprehensively considered well-known public chains are progressing. Checking on NashChain (NULS) and Dash shows substantial improvements in its ranks as they significantly jumped to the 6th and 10th spot from 10th and 15th place.

A short recap with the EOS public chain that answers why it keeps on top consecutively is because EOS has the most advantage features compared to Bitcoin, Tron and Ethereum.

What are these advantages?




Scalability




EOS can handle millions of transactions per second by using DPOS (distributed proof-of-stake) consensus mechanism compared to Bitcoin that can only handle less than 10 tps that results in a long delay or pending transactions. Ethereum can faily handle 20 transactions per second. Most blockchain-based applications cannot handle many transactions per second because they rely on a consensus that handles every node of the network.




Flexibility




This is really essential to every public chain to have a flexible system to avoid damage due to a certain attack or if a Dapp is faulty. Eos uses an extension of the DPOS system that freezes a produced block until it is resolved. Etheruem on the other hand experienced a DAO attack that created a panic and divided the community due to hard fork.




Usability




EOS can incorporate features such as different types of interfaces for development purposes, databases and other tools that need permission.




Governance




Another term for this to understand is the multi-signature that abides by a protocol within a given time period and established agreement. For instance, a single transaction in EOS must include the hash of the constitution to the signature.




What is this constitution about?

It is an agreement and mutually accepted rules that is legally binded. In this scenario, the parties involved in a certain transaction must follow the agreement.




How does it work?




For instance, a group of individual has agreed to a constitution that needs 15 co-signatory out of 20 within 30 days, the block producer is then adopt changes to the source code to synchronize the change according to the constitution and approval rate and the blockchain will accept this action using the hash of git commit. This approval should be maintained for 30 straight days. When the process is complete, full nodes are given with a 7 days time for the constitution to adapt to the new changes. If a sudden change occurs where the agreement is not followed, the created protocol will be nulled. For a better understanding in layman's terms, if you cannot follow the procedure and break the contract, then it's terminated.




Parallel Processing




Composed of Horizontal and Vertical scalability, Asynchronous communication and Interoperability. Teamwork is the key! This means that in EOS, smart contract programming is assigned to multiple processors where a fast speed in programming time is achievable.




Self-Sufficiency




To maintain the development and growth of any blockchain project based on EOS, a generation of 5% inflation per year is designed and to make sure the public chain is independent and does not depend on any individual, group, organization or other parties. This means, there will be a distribution to the platform's block producers according to the confirmation of transactions on the platform as well as to the most voted smart contracts or proposals (top three) from the holders of such token.




DOS or Decentralized Operating System




EOS is more focused on adopting operating systems and other programming products rather than being a plain decentralized blockchain technology. It means that it can be created, integrated and programmed to create a solution that is compatible to any system.

With these EOS characteristics, there is no doubt why EOS is chosen to be the best performing blockchain project in China.

          Winterwind has extensive experience in EOS development. We have been using EOS technology since 2017 in developing client websites and mobile apps.